New pages
Welcome to World Embryo Wiki
World Embryo Wiki is a collaborative website about World Embryo that anyone can edit! Please help update this website, it is not up to date.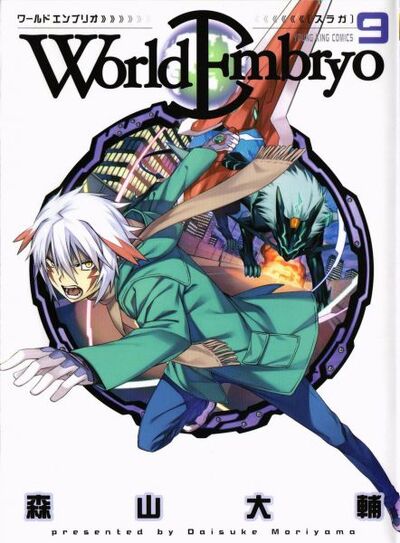 7/24 Kiritani Nanami page added.
5/27 Amami Amane page added, Riku and Rena pages updated.
5/13 Riku, Rena, and various other pages created.
5/11 Julie, Coffin Princess, and Neene's Page Created
The Story of World Embryo
Edit
"The Cocoon is the beginning of everything...."
Having lived a couple years of mourning and frustation over the losing of his beloved step-aunt Amane, the young teenager Amami Riku was one day surprised by a picture message of unknown origin sent to his cellphone. The picture showed his supposedly-deceased step-aunt standing healthy in front of a ruined hospital. In a rush, he then went to said hospital, only to find himself surrounded by a bunch of gruesome monsters called Kanshu. Luckily, a pair of Jinki Users, warriors specialized in exterminating Kanshus was there to help. Thus he was able to reach safety. However, monsters aren't the only thing he found. Somewhere along his escape, he also stumbled upon a strange cocoon. A large cocoon, that would later hatched a toddler with a striking resemblance to baby Amane....
After a long series of incident, Riku became a Jinki User himself and joined F.L.A.G., a secret organization which deals with Kanshu's extermination and the stopping of the so-called Kanshu's "Source of Infection". As the story goes, mysteries surrounding the Kanshu's existence and its counterpart - Jinki Users, are revealed one after another. However, one yet unanswered question still lingers in Riku's mind: what is actually happened to Amane?